Embedding the lifting thread into the skin can stimulate the deeper dermis to produce more fibrous connective tissue. Therefore, in improving mandibular contour, statutory lines, corners of mouth, eye circumference lines, forehead lines and other issues, compared with the general smooth line has a more obvious compact effect.
 Advantages:
About 9 months after treatment, the filaments will dissolve, but the results will still last for many months. We recommend that you repeat this step within 6-9 months after the first step to get results up to 3 years.
PDO line can be used for lifting, revitalizing (improving skin texture and wrinkles), plumping and even reducing fat. Different threads serve different purposes.
After about 1 week, you will look more natural.
Can be used on the face, or on various parts of the body whose main purpose is to improve rather than restore strength.
Model&Size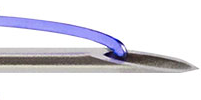 Production Description
Needle Gauge
Needle Length/mm
Mono (Sharp Needle)
26G
38mm ,60mm ,90mm
27G
38mm ,50mm ,60mm ,90mm
29G
38mm ,50mm ,60mm
30G
25mm,38mm